The "Purple Passion"
Capt. David Edens
www.flycastcharters.com
St. Simons Island, GA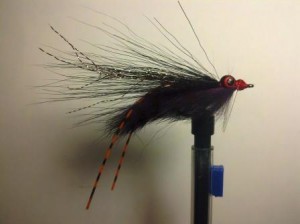 This fly is an evolution of the St. Simons Scampi. While the St. Simons Scampi was developed for clear water, the Purple Passion was developed to imitate small shrimp and to be fished in stained water. This is what you find in the summer fishing low tide flats for red fish. I always like dark colored flies when the water is dingy, and purple and black are go to colors for salt water fishing. I imagine it would work well with other colored zonker strips in different water conditions and in larger sizes when the shrimp are bigger. You could also palmer the body with Copper UV polar chenille to give it additional flash, but it works well as is and is easy to tie. Please register or log in to view complete material list and tying instructions. When you register, you will be put on our mailing list and receive our newsletter every four to six weeks. I think that is a fair trade for tying instructions for this great fly.
Materials:
Size 4 Mustad Signature Fly Series 34007 or equivalent
Small red lead eyes
Orange barred rubber legs
Copper K-flash
Black Bucktail
Purple or Purple/Black Barred Zonker Strip
Red Tying thread—I like to use Size A rod wrapping thread for my clouser style flies.
20 lb Mason hard mono for weed guard if desired
Your content goes here. Edit or remove this text inline or in the module Content settings. You can also style every aspect of this content in the module Design settings and even apply custom CSS to this text in the module Advanced settings.
Step 1: Attach lead eyes 1/3 of the way down the hook shand, behind hook eye. Make a thread body, tie in rubber legs so they are about 3X the length of the hook shank.
Purple Passion, Eyes, flash and legs attached
Purple Passion, Eyes, flash and legs attached
Take three to four strands of K flash, fold it over the thread and tie in in front of rubber legs on either side of the hook shank. Trim unevenly so the K flash is slightly shorter than the rubber legs.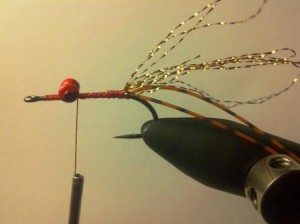 Purple Passion, Eyes, flash and legs attached
Step 2: Attach black buck tail in front of and behind the lead eyes, clouser style. Do not bind the buck tail to the hook shank beyond the initial tie in point of just behind the lead eyes. I like the buck tail to roll and flair on both sides of the hook shank.
Purple Passion with bucktail attached
Step 3: Flip the hook over. Take about a two inch zonker strip. Measure so the fibers extend just to the end of the buck tail. Pierce the zonker strip with the hook point and slide down to the fly body.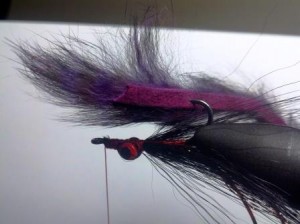 Purple Passion, piercing zonker strip
Step 4: Stretch the zonker strip along the hook shank, and tie off in front of the eye. Trim zonker strip.
Step 5: Tie in V shaped mono weed guard if desired, cement head and go fishing.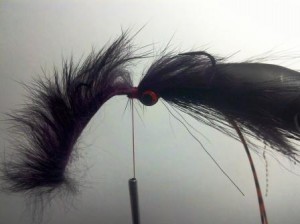 Purple Passion, zonker strip attached